MULTI-DIRECTIONAL TRUCK
This is a specialist truck used by companies with specialist requirements. The multi-directional truck offers solutions to businesses that have the need to move and transport much longer palletised loads. They are versatile and have the facility to travel in any direction without turning the truck, including diagonally.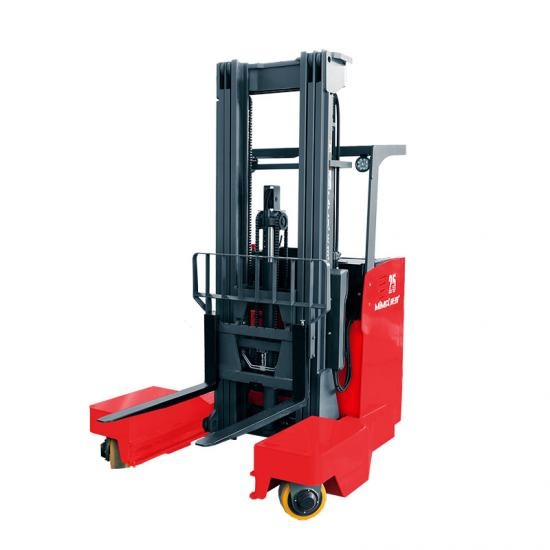 WHAT WILL YOUR TRAINING INCLUDE
Delegate training will generally consist of 3 stages which will cover both written and practical assessment. You will be using a range of video and written materials to assist you in your training:
Basic training: the basic skills and knowledge required to operate a lift truck safely and efficiently.
Specific job training: knowledge and understanding of the operating principles and controls of the lift truck to be used and how it will be used in the workplace.
Familiarisation training: applying what has been learnt, under normal working conditions, on the job.
It is difficult to specify how long a course should last as there are many issues which affect the rate of learning. Courses should be long enough to meet the requirements  (typically 3-5 days for a novice and 1 day for a refresher). Delegates with some experience of lift trucks or relevant experience of similar vehicles may need less extensive training than those with no experience, however, do not overestimate the value of such experience.  A delegate with basic training on one type of lift truck or handling attachment cannot safely operate others, on which they have not been trained, without additional conversion training.
Testing
The instructor will continuously assess a trainee's progress to ensure they achieve the required standards throughout training. At the end of the training, the trainee should pass a test, or tests, to demonstrate that they have the necessary practical and theoretical knowledge and skills to operate lift trucks safely.You will have to pass 3 separate test to obtain your FLT certification
Pre Use Check
Theory test (Mixture of 25 open and multiple choice questions)
Practical skills test (Driving around a chicane with a loaded truck and operate at all levels of the pallet racking)